Conservatories
Chamfered Conservatories And Orangeries
Today a conservatory isn't just somewhere to nurture tender plants. Modern materials and construction techniques mean that conservatories and orangeries can be used all the year round and are a cost-effective way to provide much needed extra space in your home. A quality conservatory can add value. Get the design and the installation just right, and your new conservatory will really enhance the appearance of your property.
Adding a conservatory or orangery to your home reconnects you to the natural world. It allows you to enjoy the changing seasons. You can be involved in your garden, its colours and its moods all year round. And when the weather really is wet, wild and windy you can be cosy and warm and still have a fabulous view of the world outside.
Design
Optima profiles have a simple, chamfered shape. They look lightweight and slim, even though, in truth, they're incredibly tough. The slim sections mean that your new conservatory or orangery can have a light, graceful appearance. With some of our soft, natural shades, they can even blend into the scenery. Perhaps for you, simplicity of layout, paired with bold colour, is everything. There's no right and wrong. There's just the design you love.
Serenity
We all need peace and quiet at times. There's so much going on in our hectic lives that we need a few moments of serenity just to keep everything in balance. Having a place to enjoy a little 'me' time isn't selfish – it's essential. Imagine your own space – gentle music, muted colours, soft lighting. Imagine being insulated from the elements and from external noise. Now, take time to relax with a book or indulge in your favourite hobbies. Doesn't that sound good?
Experience
Extending your home with a conservatory or orangery does a lot more than adding square metres to your living space. It can be life changing. Think about entertaining, parties and family celebrations – you've got your own perfect venue. Maybe the kids and their toys are getting under your feet – build them a playroom that's handy for the garden. Maybe you've always wanted to grow exotic plants, or dabble in watercolours. Life's more fun when you extend the boundaries!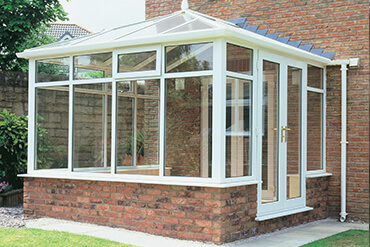 Edwardian
With classic lines and a square or rectangular shape, an Edwardian conservatory makes an attractive addition to your home and the best use of your space. The basic design can be enhanced with detail, soft colours and glazing bars to suit a traditional or period property, or can be kept clean and simple using full-height glazing and bold colour for a surprisingly modern twist on Edwardian style.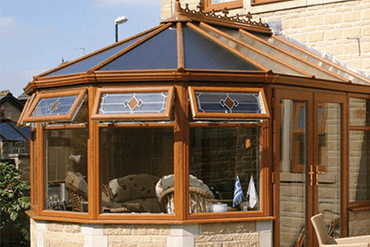 Victorian
Victorian homes and public buildings were filled with detail and the period was characterised by some exceptional feats of engineering. A Victorian-style conservatory reflects both that love of detail and the brilliance of design. The shape is faceted, the roof an exercise in perfect geometry and the whole a light, airy and graceful structure that sits perfectly with almost any home and garden.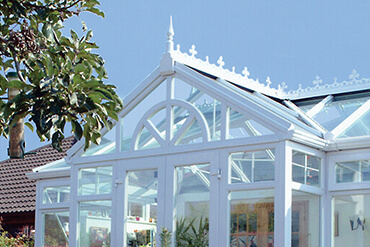 Gable-End
A modification of the basic Edwardian conservatory, a Gable-End style replaces the hipped roof with a full ridge-height gable. For the same footprint and overall height, it offers a striking impression of extra space and height and has a light, open feel. The gable end can be impressive – imposing even – and is an ideal place for adding extras like feature glazing or sunburst designs.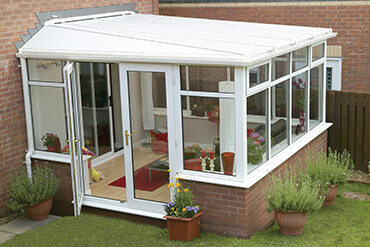 Sun Lounge
Perhaps the very simplest of conservatory designs, a sun lounge is constructed using a single pitch roof
and a square or rectangular footprint. They are ideal for smaller properties or those with restricted eaves height, but can be very dramatic and stylish when spread across the full width of a larger property. Customise the design to suit your home, use colour, add detail and enjoy.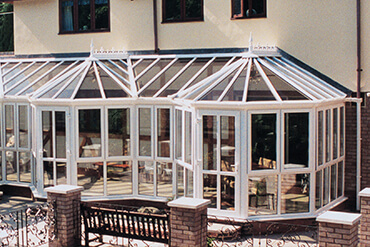 Bespoke
When you need something out of the ordinary, when your home demands something special, we'd love to help. We've helped to create some amazing structures over the years and delighted many homeowners with the results. Size or shape won't faze us, but you can be sure that if you choose a bespoke Optima design you'll be choosing something very special indeed.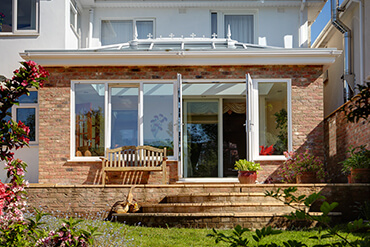 Orangery
A modern orangery is a beautiful home extension that looks and feels like an integral part of your home, but which still preserves the bright, open feel of a traditional conservatory. Fixed pillars, fitted with Optima doors and windows, a sharp, clean perimeter roof and a gorgeous atrium-style roof lantern combine to make an extension of your living space that's both practical and glamorous.